Choose Elektro Door for Reliable Gate Motors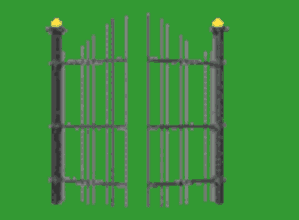 Gate Motors and Gate Automation
Reliable Gate Motors
Elektro Door has been installing gate motors since 1984.

From experience gained we will select the right gate motor for your specific requirements from a list of reputable and reliable South African gate motor manufacturers.


Sliding Gate Motors
For typical household applications we use the Centurion D5 Gate Motor





This motor with it's battery back-up, has proven itself for typical South African household gates weighing up to 500kg.
It offers 10 operations of your gate in an event of a power failure and has a suggested maximum usage of 100 gate operations per day.

The Following are On-Board Features of the Centurion D5 Gate Motor


Electronic Anti-Crushing Sensor for High and Reliable Safety
Auto-Close Facility
Internal Lockable Manual Over-ride
Oil Filled Gearbox for Long Gear Life
Lightning Protection on PC Board
High Speed (16 m/sec) for Greater Security
Intercom System can be powered from Gate Motor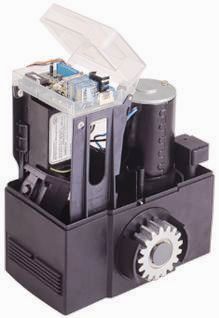 The Gemini Gate Motor is also a close contender to the most reliable gate motor and depending on your preference can be used as well.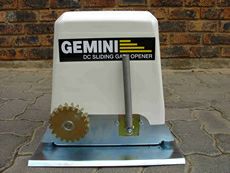 Our Skilled Gate Motor Installation Team have installed 100's of gate motors.


We recommend using steel rack which is securely welded to your gate for reliability and extra security.
If your gate needs a service ( new rollers or wheels our installation team will gladly oblige.
Bear in mind most Gate Automation sites that give problems, the problem is more than likely caused by the gate and it is better to ensure gate is working properly when automating the gate.
We always send out a sales representative to give you a professional quote and ensure that there are no nasty suprises come installation day.
Our sales representitives have all installed gate motors as well as intercoms and are highly knowledgeable in the Gate Automation World. They will gladly answer any of your questions and advice you as to the most cost effective and reliable gate automation option available.



Industrial and Commercial Gate Motors
Over the years, we have installed many specialised and reliable gate automation systems for clients.
Kindly Contact us and we will send out a knowledgeable sales representative to assist you with the following:


Complex or High Frequency Gate Motors
Gates weighing up to 3 tons
Solar Powered Gate Systems
Swing Gates with Limited Side Room
High Security Applications
High Frequency Swing Gates
Swing Gate Automation
There is a choice between a crank driven and piston type gate motor.






The crank arm motor offers a courtesy light that switches off after 5 minutes enabling better vision at night.
The piston type motors are generally used in panhandles and other gate sites with limited side room.
Kindly Contact us and we will send out a knowledgeable sales representative to quote you on swing gate automation.


Gate Motor Repairs and Servicing
Our highly trained service team can repair and service your existing gate motor and gate in and around Pretoria.

We carry spares for the following gate motors


BFT
Came
Centurion
Digi-Gate
Gemini
Hansa
Nice
Remez


Kindly Contact us and arrange a service or repair to your gate motor