Blaster Portable Pepper Gas Alarms
The Ultimate in Home Security :: Blaster Gas Alarms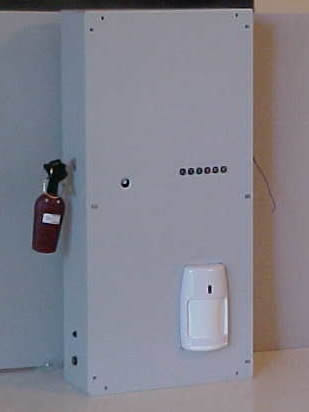 When Triggered Alarm Dispenses a Burst of Pepper Gas spray
The Gas is a Natural and Non-Toxic Chilli Pepper Extract
Severly Irritates the Intruder's Eyes and Respiratory Tract
It is impossible to remain in inside areas were pepper gas was sprayed
Panic Feature:
Allows one to trigger gas by holding button in for 4 seconds . Worried about waking up with an intruder in your house? Triggering your Blaster Alarm will dispense a 7 second burst of Oleoresin Capsicum spray causing intruder to immediately evacuate your premises.
Alarm is easy to use and is fully portable, Just position in required area, and plug in ( 5 meter extension provided ). Arm alarm with a remote and leave area within one minute. An audible indication is given in arming and disarming of unit indicating status. Back-up battery in-case of power being tripped/failure is standard.
System can be coupled to existing alarm, for increased home protection
Primary defense against intruders
Door to Door Courier Delivery of Alarm Systems is available nationwide
Operation of Portable Alarm
The system will not arm unless the passive has been set for a minute. Once a minute has passed, the system can then be armed. One beep indicates armed, two beeps indicate off. When armed, the armed LED on the front panel will be lit. A 15-minute delay option is also available for business use by switching a dip switch on ( default setting is one minute ). The system arms, but will not be active for 15 minutes. Once armed, the system will be immediately activated by the passive infra-red motion detector, and will spray for 7 seconds, filling the area with OC spray. If there is continued movement, the system will not spray again and empty the canister. Only after an 8-minute "waiting" period, will the system then spray again. Six full activations are obtained from one canister after which the red LED flashes and the system will not arm again until the canister has been replaced and the system reset. To disarm normally or after activation, press the remote button, 2 beeps will sound and the system will disarm. Ease of swapping OC gas canister's. OC Spray is non-lethal and has no permanent effects on humans or pets. Open windows and allow to air for 30 to 60 minutes if alarm is triggered.
Alarm System Specifications
Input Voltage: 16 volts A.C.
A 16 volt A.C. transformer with 5-meter cable is supplied.
Back-Up Battery: 12v gel cell rechargeable 2 amp
Two Remotes Supplied as Standard
Features can be enabled/disabled via Dip switch settings on PC Board
Current consumption: 0.5 amps in standby, when solenoid activated 2 amps for 3.5secs x 2, while siren active for 3 mins, 0.8 amps.
Siren: built in mini siren
Siren duration: 3 minutes
PIR range: 15 meters x 21 meters, 100º with built in creep zone
PIR operating temperature 0º-49ºC (32º-120ºF)
Spray: Oleoresin Capsicum non-toxic, pepper oil
Spray vol: approx 1000 cubic meters
Spray duration: 7 second bursts with 8-minute intervals
Status light can be fitted from Alarm Panel
Size: 200mm wide x 420 mm high x 80 mm deep
Weight: approx 6.5kg
The Auto-Blaster portable unit has a mains status LED above the A.C. input socket, indicating that the power is on. A key-switch above this turns off all power to the unit. A 16 volt A.C. transformer with 5-meter cable is supplied. Additional output sockets are for an external siren and alarm output to a control room radio transmitter. Remote controls used are QD codex code hopping technology and 1 remote control is supplied with the unit. Additional remote controls can be added if required. These are supplied as standard equipment, but can be changed. Additional Passive infra red detectors can be added in series with the built in passive if required as the control board can handle the extra current load for up to 6 passives. Power supply has a built in mains failure buzzer, which sounds if the power is cut. Silent panic is activated by pressing and holding the remote control button in for 4 seconds. This feature can also be turned off by switching dipswitch 4 off on the controller card.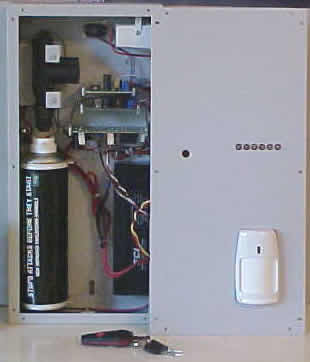 Warehouse Alarm Protection and Industrial Property Alarms
An industrial alarm unit that will cover 30 000 m3 to 300 000 m3 is available for warehouses and large areas.
Allow a no-go zone in certain parts of your warehouse or make the entire warehouse a restricted area at night
Large Fire-extinguisher type pepper spray dispenser units are available to ensure zero stock-loss and peace of mind with your valuable goods.
If alarm is triggered the entire warehouse inside is filled with a choking and blinding pepper spray causing the intruders to immediately evacuate the premises.